Free ATS Resume Checker

for a Successful Job Application
Most employers today use an Applicant Tracking System(ATS) to simplify the screening of resumes and enable hiring managers to get a list of only the most relevant and qualified applicants. This is why as an applicant you need a free ATS resume checker to increase your chances of getting through the initial obstacles of shortlisting. Moreover, it will help you land your new job if used correctly. Unfortunately, not many candidates know how to use it.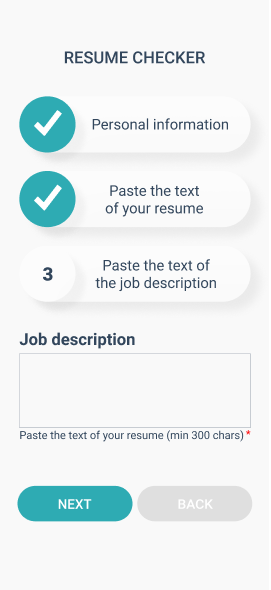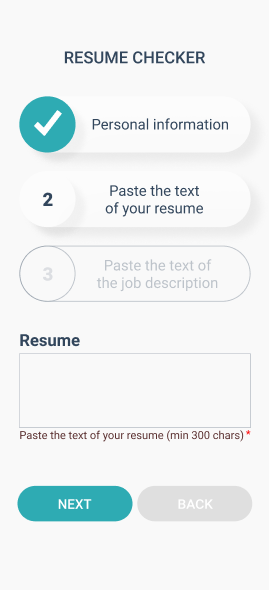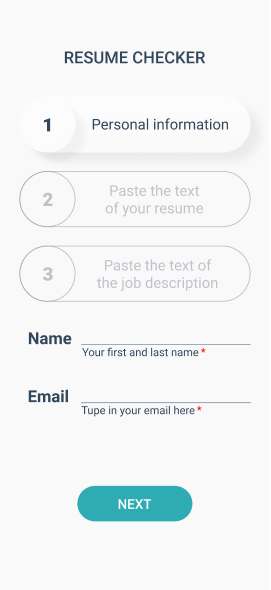 Why Do You Need an ATS Resume Checker?
Every job seeker needs a well-formatted resume to get at least shortlisted for an opening. There are several free tools you can use to check if your resume is of top quality. Using an ATS resume checker is simple because all you have to do is paste the text of your resume and wait for the results. Why do you need to pass your resume through an ATS resume checker before sending that job application email? Find out below.
The basic function of an ATS resume checker is to help you get rid of common mistakes most job seekers make in their resumes. This will help you improve the quality of your resume and make it look more professional.
Unless you are directly recommended for a job, you will be relying on your resume to make the first impression. Most recruiters spend less than 15 seconds to skim through a typical resume because they receive thousands of applications resumes. What they see in those first few seconds will play a huge part in your CV getting past the screening phase.
Besides, a resume checker will help you determine whether or not your resume contains all the necessary information and probably increase your chances of landing the job.
Evaluating your resume helps to fix a few things you did wrong and lets you learn how to format it to achieve a higher score. A free ATS checker scans your resume and gives you a review. Pay maximum attention to every detail highlighted in the feedback, and you'll easily increase your chances of getting shortlisted. The evaluation will let you find out if your resume:
Has the right length
Has the correct formatting and style
Has any grammar mistakes
Contains all the necessary sections
Has proper use of verbs, pronouns, etc.
The ATS checker is the real deal since you can also use it to scan your cover letter and LinkedIn profile and adequately optimize them to land jobs.
Did you know that more than 76% of recruiters use ATS to test applicant resumes? This helps them to filter candidates based on the quality of their resumes. Companies find this use of technology a real time saver.
Optimize your resume based on the critique review file provided by the checker. More so, ensure your entire career experience, education journey, and any other relevant details are correctly captured.
How ATS Checker Scans Your Resume
The ATS software is designed to scan your resumes' sections such as education, work experience, and skills among other relevant information. The Applicant Tracking System will forward quality resumes with the highest scores to the recruiting manager based on the set criteria. This makes it a fast and reliable system for filtering candidates.
To use a free ATS resume scanner, follow the steps outlined below.
Paste Your Resume into the ATS Checker

The first step is to copy and paste your resume file content into the software and wait for the scanning process. The file format doesn't matter as you just need the text to copied and pasted. The checker examines your resume to search for the conformities.

Review Scanning Feedback

The ATS scanner will then create a report containing a resume score, which acts as a grader of the quality of your resume. Moreover, everything you need to fix will be displayed in the report, which makes this tool more impressive.

Receive a Critique

If you hire a writer to draft your resume, you will want to make sure they get it right. Each detail they include will be weighted by the resume checker and will have an impact on the quality of your resume.
Job Seeker's Testimonials
"ATS resume checker helped me build a great resume which eventually got me shortlisted and hired as an accountant. I would recommend it to all the candidates out there."
"Without ATS, I would have ended up being eliminated before even the shortlisting started. I am grateful I tried this tool for free. It's a 5-star software, in my opinion."
"The first time I used ATS was really frustrating because I realized some document properties were detected instead of the resume details. Apart from that, I found it useful in getting all the sections right and checking the grammar of my resume."
Features of the Free ATS Plugin
Employees are looking to hire qualified candidates, but the problem comes when they receive thousands of applications with no time to go through all of them. In an effort to step up their search for more qualified candidates, employers have resorted to technology, and Applicant Tracking System provides the ideal solution.
An ATS is well-equipped for this job because of the following features:
Job distribution
Career page hosting
Resume storage
Message and interview
Onboard tools
Social sharing
Receiving and sorting application